Geneva Bible 1560 reformatted and in modern font
Come Praise God with David in the Psalms.
These PDFs can be printed and assembled using a post bound album with extentions.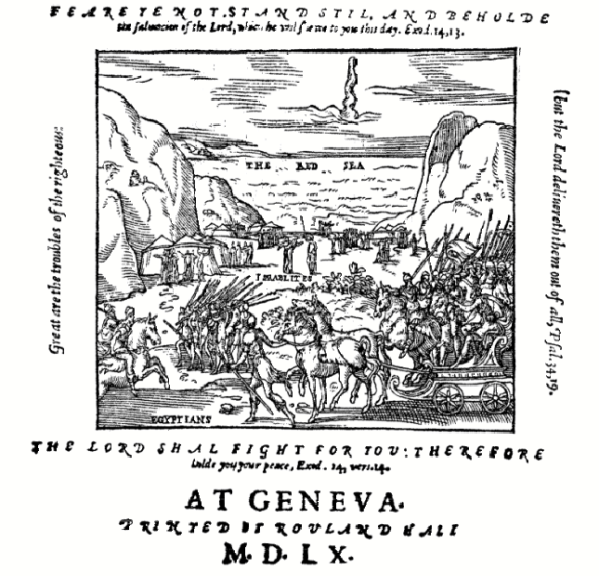 In this figure four points are to be considered, first that the Church of God is ever subject in this world to the Cross and to be afflicted after one sort or other. The second, that the ministers of God following their vocation shall be evil spoken of, and murmured against, even of them that pretend the same cause and religion that they do. The third, that God delivers not his Church incontinently out of dangers, but to exercise their faith and patience continues their troubles, yea and often times augments them as the Israelites were now in less hope of their lives then when they were in Egypt. The fourth point is, that when the dangers are most great, then God's help is most ready to succor: for the Israelites had on either side them, huge rocks and mountains, before them the Sea, behind them most cruel enemies, so that there was not way left to escape to man's judgment.
Geneva Bible 1560
Old Testament
Exodus original format
Numbers original format
Deuteronomy original format
Joshua original format
2 Samuel original format
1 Kings original format
2 Kings original format
1 Chronicles original format
2 Chronicles original format
Jeremiah in original format
Ezekiel in original format
Apocrypha
1 Esdra original format
2 Esdra original format
Tobit original format
Judith original format
Esther original format
Wisdom of Solomon original format
Wisdom of Jesus/Sirah original format
Baruch original format
Song of the Three Holie Children original format
History of Susanna original format
History of Bel and of the Dragon original format
1 Maccabees original format
2 Maccabees original format
New Testament
Catechisms